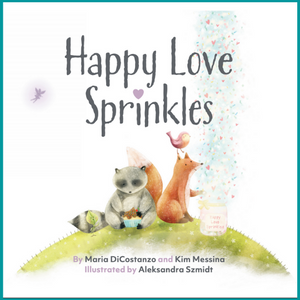 This award-winning, enchanting story of friendship and happiness will warm the hearts of children and their adult readers alike. Hardcover, poetic, and beautifully illustrated, this book is destined for your child's collection of forever keepsakes.
Story Summary
When shy and lonely Critter wishes for a friend, he's visited by a moon fairy who delivers instead a curious jar of happy love sprinkles. The colorful crystals take flight, leading the young fox on a magical journey through the forest where he crosses paths with Sprout, a wilted plant who yearns to be big, Peep, a little songbird with no voice, and Cakes, a raccoon who likes his sweets more than he should. Complete with a recipe for making Happy Love Sprinkles, children will be inspired to give of themselves and befriend others.
 32-page children's hardcover.
Target audience: children ages 2 - 8
(but enjoyed by all ages!)