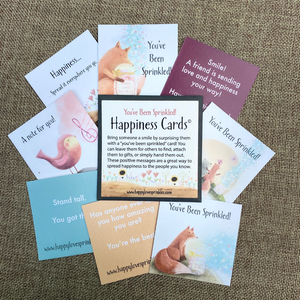 Happiness Cards make a wonderful "random-acts-of-kindness" activity for children. Our bulk box is perfect for educators, camps, school districts . . . or anyone who would like to distribute large amounts of happiness cards. Please note that cards in bulk orders do not come prepackaged. You will receive a box containing a random assortment of 250 happiness cards. One box is enough to provide 5 cards for 50 students.
These little 2.5 x 2.5 cards feature uplifting messages that are sure to bring a smile to those who receive them. Leave them for someone to find. Hole punch a corner and attach to a gift. Or simply hand one to someone who needs a little pick-me-up. A simple and easy way to bring joy to someone's day! 
*Please note that there may be a 2-week turn around time for large orders.